Step 1.1: Register/Sign Up for a GoodBricks Account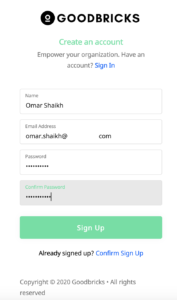 Enter your full name, email address (associated with your organization), password and confirm your password.
Click on "Sign Up" button.
Step 1.2: Verify Email Address.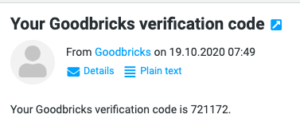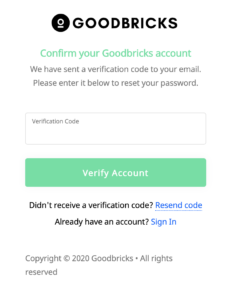 Paste the code in Verification Code field and select 'Verify Account'.
If you did not receive a verification code then click on "Resend Code" link to resend the code and then follow the steps above.
Step 1.3: Complete Setup
Sign back into the account.
Enter your Organization Information
Organization Name: Please enter accurately, as this name will be used across the application.
Organization Email Address: This email address will be used as reply to on receipts etc.
Organization Phone Number: This phone number will be used as contact info on receipts etc.
Organization Website URL: Enter your organization website URL.
EIN: Enter your organization's Federal Employer Identification Number.
Select "Complete Setup"
WELCOME ABOARD – WE ARE HAPPY TO SEE YOU.